Careers with Blue Insurance
Workforce Planning and Analytics Manager
Location: Greater London, UK or Dublin, Ireland
Be part of our award-winning team!
Who we are
Blue Insurance is an ambitious Insurance business developing innovative products and disrupting the Insurance landscape in the UK and Ireland.
Founded in October 2003, Blue Insurance is an online insurance business, providing online Travel, Car Hire Excess, Motor Breakdown, Gadget, Pet, Bicycle and Wedding insurance. Since 2003 we have grown from a niche travel insurance provider with a team of into an award-winning, Deloitte Best Managed Company.
In October 2018, Blue Insurance officially became part of the Cover-More Group. Cover-More Group is a global specialist and integrated travel insurance, medical assistance, and employee assistance provider with operations across five continents. Cover-More Group is headquartered in Sydney, Australia. In 2017, Cover-More became part of Zurich Insurance Group emerging as the third largest travel insurance provider in the world.
Blue Insurance Ltd is regulated by the Central Bank of Ireland and authorised by the Financial Conduct Authority for UK Business.
The Team and Community
Caring is at the heart of what we do. We're here to make a positive difference in the world we live in. Through our social impact, we are committing to the communities we work in and giving back where they need it most. Whichever way you choose to participate in volunteering or fundraising, whether as a team or individually, the company gives you 3 paid days to volunteer. This is our commitment to our community. Then, wherever you help, the commitment is always doubled, and the company will match the number of volunteer hours that staff complete each year and also any money donated to a charity which we call Employee Matching here in CoverMore Group.
Role Overview
This role is ideal for a workforce planner with broad analytics skills and would like to broaden their roles to include both workforce planning and analytics. Sitting within our Operations and Customer Service Department the Workforce Planning & Analytics Manager will focus on two key areas:
To prepare reports on comparative data on results vs forecasts with the aim to identify gaps, current & future staffing needs, opportunities for improvement and recommend solutions. In this role, you will have a strategic approach to workforce planning aligning it to business needs and overall strategy by identifying and proactively addressing resource and scheduling issues, respond to staffing needs quickly and manage risks. In this position you will be required to manage staff scheduling and work volume balancing, make adjustments where needed and make recommendations to maximise our service and quality. The workforce planner's objective will be to optimise performance within our call centre through improved work planning and work patterns and seasonal/temporary resource planning, or short-term staffing needs.
The role will include the development and management of customer reporting across the business. This will involve bringing in customer data from various sources such as contact center systems, surveys, claims, complaints, website journeys, BPO teams, policy management data into a new set of management reports. You will support the business in the creation, delivery and analayis of this data to help drive better outcomes for customers via data drive insights. You will work with the support of cross-functions teams to enable this. This position will play a key role in our expansion across the EU, developing multilingual teams and setting up new BPO partnerships to support both growth and seasonal demands in each market.
Key Accountabilities and Responsibilities
Analyse data and recommend resourcing solutions for implementation
Create reports on performance and forecasts
Run regular reports (weekly/monthly/quarterly) and develop staff schedules for our call centre and operations
Create reports and tracking systems to monitor staffing patterns (annual leave, illness, statutory leave, training, etc.) to understand talent availability, optimise resourcing forecasts and ensure effective resource use at all times
Analyse employee skill-sets, identify talent needs and related costs
Review unfavourable trends and run root cause analysis
Create reports utilising data from difference sources to help the business drive better customer outcomes and improve customer experience via data driven insights
Work with business stakeholders to gather and standardise customer KPIs in the business. Engagement with product managers, IT, continuous improvement manager, complaints manager and contact centre teams will be a key part of this role, and enable cross-functional support.
Deliver exceptional customer service
Build relationships and assist leadership to achieve operational objectives
Adhere to GDPR and protocols
Qualifications, Skills and Requirements
Strong communication and organisational skills
Able to work in a fast-paced environment and handle large amounts of data
Demand and supply analysis skills
Ability to understand, communicate and work closely with different stakeholders
Good understanding of systems and databases
Proficient in MS Office / advanced IT skills
Knowledge of analytical and BI tools such as Tableau
Commercial awareness
Approachable, personable, and energetic
Confident and experienced communicator with a passion for people
Results driven, logical, creative, and highly organised
An appetite for continuous learning
Problem solving skills with a pragmatic approach
Self-starter and ability to work under own initiative
Positive, confident, passionate, energetic, and enthusiastic
Previous experience as a Resource Planning Manager or similar role
Experience within a call centre or shared services is an advantage
Demonstrable ability to support business development and growth
Experience with WFM technology and concepts
Strong numeracy skills and reporting
Previous experience in a supervisory or leading role within operations, call centre team
Organised and able to meet deadlines
Experience planning for multilingual teams as advantage
Experience managing BPO partners an advantage
Experience with analytical tools and concepts
Experience with BI tool such as Tableau and SQL Databases an advantage
Bachelor's degree or equivalent qualification
Industry knowledge is an advantage
Rewards and Benefits:
Competitive salary (DOE)
Company pension
Life insurance
Income protection
Hybrid working
Employee Assistance Programme
Family friendly and work-life balance
Paid parental leave
Paid Covid–19 sick leave
Online learning and training opportunities
Professional membership
Overtime pay
Staff referral bonus
Work anniversaries leave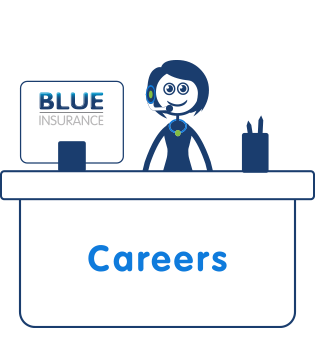 Interested in this role? Please send in your application via careers@blueinsurance.ie or email Vilma at vilma.soumpasi@blueinsurance.ie and we will contact you immediately.
This is a permanent role. Office based and remote opportunities available. Blue Insurance is an equal opportunities employer.