Building Insurance
from €208.30*
---
You can choose to have only the structure of your house insured and protected against unexpected perils, such as theft, storm, fire and water damage. The Building Insurance covers the physical structure, including roof, floors and walls, fitted kitchens and wardrobes. It also includes coverage for water and oil escape, replacement locks and fire brigade charges. Please be aware this policy does not cover your contents.
You can purchase Building Insurance through Blue Insurance for as little as €208.30* for a one year policy. Blue Insurance also offers a 2-year policy which freezes the price for 2 years, even if you need to make a claim.
*Price based on a 3 bed/2 bath detached-house in Ballina, County Mayo, built in 1991 with €100,000 building cover, owned and occupied by an Accountant, with smoke detector, standard alarm, gas central heating and is 6 years claim free. Price valid as of 07/11/2017.
Standard terms, conditions and underwriting criteria apply. Property in areas prone to flooding or subsidence may be declined a quotation or cover restricted. Full details are contained in our policy document above.
Other great savings include:
20% 1st Time Buyer Discount
15% Saving on 2 Year Policy**
**2 year policy saving based on two 1 year policies versus a 2 year policy.
Super Competitive Prices
In addition to affordable Building Insurance policies, we offer a full range of discounts.
High Customer Satisfaction
We score 8.4 out of 10 for positive customer reviews according to Trust Pilot.
Ease of
Claiming

Call the Claims Team at any time, any day of the week. Always ready to help.
Here are Some Advantages of Having our Building Insurance.
Fire & Theft Cover
Storm & Flood Cover
Subsidence & Impact Cover
Water & Oil Escape
Malicious Damage
Alternative Accommodation
Replacement Locks
Outbuilding/ Shed Contents Cover
Fire Brigade Charges
Optional Accidental Damage Cover also available
Fire & Theft Cover
Storm & Flood Cover
Subsidence & Impact Cover
Water & Oil Escape
Malicious Damage
Alternative Accommodation
Replacement Locks
Contents Cover
Outbuilding/ Shed Contents Cover
Optional Accidental Damage Cover also available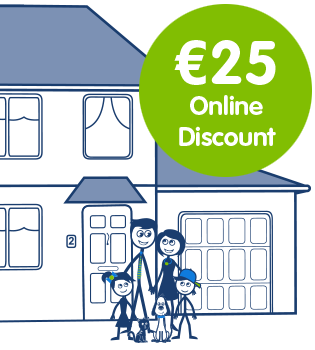 Why Choose Blue?
Award Winning Company
Winner of Deloitte Best Managed Companies Award every year since 2013.
Trustworthy Underwriter
Policies are underwritten by Surstone Insurance dac who are regulated by the Central Bank of Ireland.
Easy Quote
Fill out our quote form in just a few minutes.
Easy Policy Management
Update your policy whenever you need with a only phone call.
Enhance your cover
Check different types of cover to complement your policy.
Safe and Secure
Blue Insurance website is SSL certified and all the transactions are encrypted.
What Our Customers Say About Us